The wine Quinta do Perdigão (single variety) Alfrocheiro won a gold medal in Japan: "Sakura" Japan Women's Wine Awards 2016.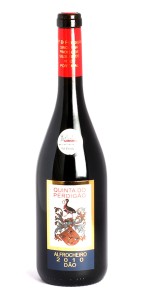 From one of the most awarded wineries in the Dão region since 1999, this red wine was born from the Alfrocheiro grape, the most delicate and expressive of the Dão's grapes it is parallel to a pinot noir.
This wine has been fermented and matured in the best french oak barrels of 225ltrs, from the best tanneries of borgonha and bordeaux, for 12 months.
The colour is deep ruby, refleting the fresh aroma of black cherry blackberry, plum, quince cheese, rosemary, balsamic notes, black pepper scent of mediterranean woodland and dutch pipe tobacco.
Quinta do Perdigão Alfrocheiro is ideal when decanted and served at a temperature of 16ºC, on its own, with entrees wild mushrooms, salt cod and other fish, white meat, desserts, coffee and chocolate.
Interested? Ask for samples. Contact us