The Financial Times journalist has claimed the Portuguese wines as one of a kind. But (and there is always a "but" in great stories) they have to be more aware of their target markets in order to be more competitive.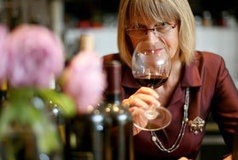 The journalist Jancis Robinson attended the international wine fair in Celorico da Beira, Portugal, where she opted not say her favourite Portuguese wine region, but she had a strong point to make about the quality and diversity of Portuguese wines.

One of the most influential wine critics of the world told that our wines are "very unique and interesting flavour one which you can't find anywhere else in the world". During the fair, the Financial Times journalist took the time to pay compliments to producers for resisting temptation to use foreign grape varieties and for accomplishing the perfect balance of oak flavour.
Although Jancis believes that the quality of Portuguese wines are improving by the hour, Portuguese producers have a huge need to understand their target markets. They need to have a competitive strategies, they need to know their strengths and their weaknesses in relation to other wines in the market.
She went on to say that the Portuguese wines can't just been "thrown" into the markets, instead the producers need to choose carefully the product they want to put out there considering each market uniqueness's. "They need to see the product from the point view of the consumer" said the reporter.
Also, the producers need to know about the products out there they are competing against. "They can't be always drinking their wine otherwise they will have no knowledge of their opponent". Jancis encouraged Portuguese producers to drink each other wines and to make constructive critics.